I was captivated by the gorgeous artwork when it first popped up in my Steam shop window. A quick scan of some reviews was enough for me to buy it. Then, as I've been rather busy, I shelved it until now.
After ten minutes I was utterly immersed. The Banner Saga, by the Texas based studio Stoic, has that ineffable atmosphere you only get from a labour of love. I can't recommend it enough.
Its core gameplay reminded me of XCOM: Enemy Unknown; utilising/synergising the skills of a squad made up of different character classes in a series of turn based tactical arenas where your characters level up over time.
As I write that sentence however, I can't help feeling that I'm completely missing the point. The gameplay is only an equal part of the draw of this game, alongside its art and music.
This is a handpainted game, suitably minimal animation, in a world inspired by viking legend. The moment you load it the haunting ensemble of horns accompanies a snowy setting illustrating the main characters; tired, grim and thoughtful. It is a melancholy that never really lifts from the moment you follow Ubin's cart and his weary travellers under a sun that has simply stopped in the sky for reasons unknown. It follows you as you wind your way through the multiple choice narrative, the leader of a caravan of refugees and warriors fleeing from 'the bad guys', the Dredge.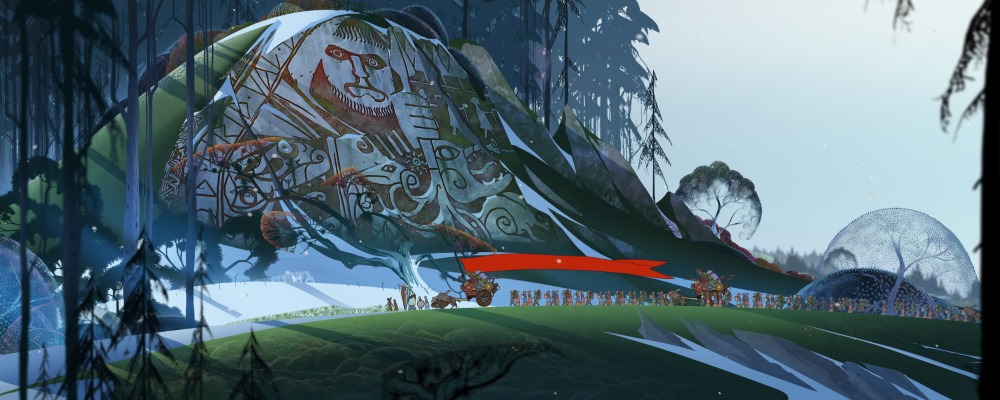 In between the battles you have many decisions to make as you progress through the wartorn lands, infighting in the caravan, thieves, betrayals, challenges to your authority, and all are dextrously handled. In my single run through of the game (and it varies according to the decisions you make) I found myself having a subtly sexist assumption in a conversation plainly exposed, snubbed by my daughter for threatening to kill desperate farmers for their oxen to feed my caravan that, through lack of supplies, was starving to death, and frequently I was presented with a decision tree to manage my interaction with my caravan of refugees where there was simply no obvious right decision.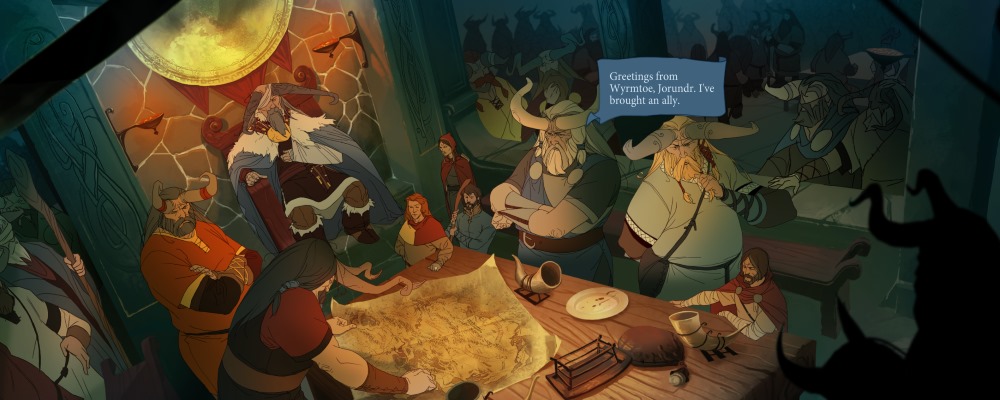 There were at least two eye-openingly disturbing moments in my playthrough, relating to the backstory, and by the end of the journey, by luck or judgement I don't know, every choice I made felt hopeless, the brink of defeat so important to the classic Hero Journey. As with XCOM, I cared about what was happening.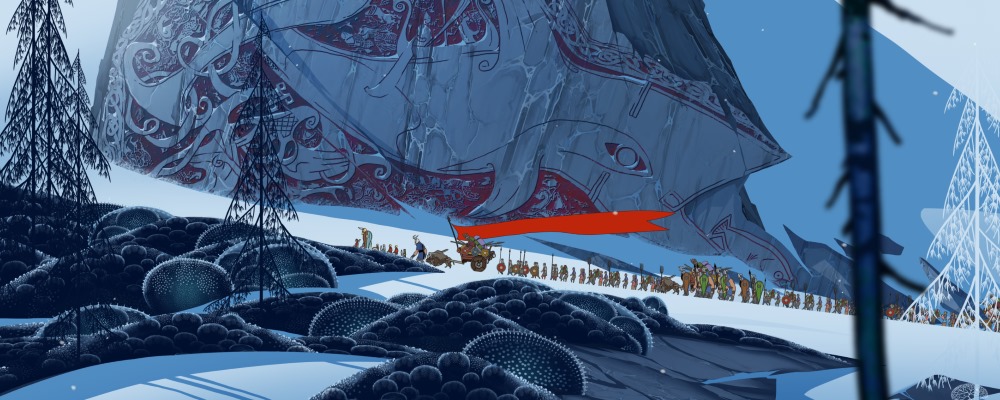 Needless to say the worldbuilding, evident in the annotated map, and the storyline, are beautifully done. With the score by Austin Wintory (click the link to listen to a track) adding immeasurably to the atmosphere, this game was more akin to reading a novel than any I've played, an absorption more in the milieu than the gameplay. It's a world on the edge of darkness, perhaps its end; great beasts (and a much bigger plot) are hinted at, a huge unseen threat, like a rupture in nature, colouring the foreboding backdrop. I'm delighted that there will be another game here.
Reviewers of the game have suggested it gets repetitive, but it isn't more than ten or twelve hours, perhaps less if you're not poring over the map and just soaking up the beautifully drawn world like I was. For me the game never outstayed its welcome, right up to the beautiful ending.
Any tips you say? Don't spread your Renown too thinly, and always always bring a tin opener.